Two of my very good friends run a startup board game company and for the better part of the past two years I have been involved with several aspects (game/question testing, product design, web design and all kinds of marketing) in bringing this to market: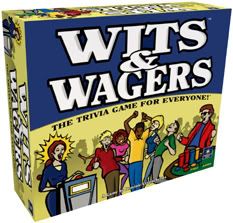 www.northstargames.com/
or
direct purchase here if interested
(I should say that I have no financial involvement in this venture whatsoever, other than the fact that if it does well my mates will be picking up the Happy Hour tab with greater regularityMmmmm Beer)
Wits & Wagers
is a very fun social party game that combines your usual trivia game with elements of betting... The questions are on the difficult side, but you can still win even if you don't know the answer, so it is the perfect trivia game for those who do not usually like trivia games, while still catering to those more Jeopardy minded individuals
I have played with groups large (25+ people) and small and it has always been a good time... actually the larger the better. My family plans on playing this during the traditional after turkey time this Thanksgiving
*** MOVIE CONNECTION ***:
During the testing phase, one of the founders was doing some informal surveys during a flight delay to Las Vegas at the Santa Barbara airport. Waiting for the same flight was NSFGEs poster boy/punching bag
Quentin Tarantino
.
So my buddy Dom, who likes movies and all but really doesnt pay attention to such things and had no idea that Quentin collected board games form 70s TV shows, went over and asked him for his opinion. Quentin got pretty into it and had some good ideas on the game. Nothing big, but I thought that it was pretty neat